The E3 SAFETY GATE "you can never leave it open!"
Finally a safety gate that requires no air no electricity no hydraulics and is fully automatic. Contact us to get your quote on the best gate on the market today.
The E3 Safety Gate is designed so you will never have to worry about leaving your Mezzanine unprotected. Since you never have to lower the gate you will never have to worry about leaving it open. Operation of the E3 Safety Gate requires no air, electronics or hydraulics. The gate is fully automatic. Easy to operate and automatically protects against associate risk from falling. No size limitations. The E3 Safety Gate is one size fits all. Once installed the E3 Safety Gate will help to make your work place a safe and secure environment to work in. Take human error out of the equation.
Designed to meet federal OSHA 1910.23 safety requirements.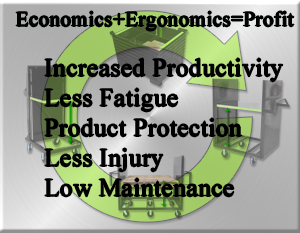 Diverse Manufacturing Solutions manufactures egonomic safety solutions that will help you and your emplyees avoid injury.
DMS can provide you with solutions that will help to increase productivity, decrease fatigue leading to fewer injuries. With Ergomonic designs that use our patented Levelizing technology DMS is dedicated to providing solutions to fit your specific needs.